Lake Istokpoga fish report, Jan-Mar 2020:
According to the Florida Fish and Wildlife Commission, bluegill (bream) and redear sunfish (shellcrackers) fishing has slowed, but fish can still be caught while fishing for black crappie (specks).
Specks (crappie) will be turning on with the cooler water temperatures in these next few months. Drift live Missouri minnows and grass shrimp in open water, or troll with Napier deer hair jigs and Hal flies for schooling fish. Find areas with sandy bottoms around bulrush and cattails, and fish a grass shrimp under a cork for spawning fish. Henderson's Cove and the north end of the lake usually produces good numbers of specks on the outside edge of the pads and grasses near deeper water.
Lake Istokpoga is one of the best lakes in the state at a chance to get your hands on a fish of a lifetime.
As of November 2019, there have been a whopping 527 TrophyCatch submissions of bass larger than 8 pounds since the program was launched in October 2012!
A total of 441 fish have been entered into the Lunker Club (8-9.99 lb.), 84 into Trophy Club (10-12.99 lb.), and 2 into the Hall of Fame Club (13 pounds or more).

TrophyCatch Tracker – TrophyCatch is FWC's citizen-science program that rewards anglers for documenting and releasing trophy bass 8 pounds or larger.
Remember, as part of the TrophyCatch program, these big bass have been released, so your trophy still swims in Lake Istokpoga. Largemouth Bass have also been tagged by Biologists on the lake. If you catch a tagged fish, remember to remove the tag and call the number provided. You will need it to collect your $100 reward!
Largemouth bass fishing can be tough during the early months of winter, with cold fronts slowing the fishing on a regular basis. Slow working baits like plastic worms in Junebug and red shad colors and suspending jerkbaits in shad colors can be beneficial during these colder months. Just remember, you must have patience while working these baits.
Live wild shiners typically produce better than artificial baits during this time of year.
Bass will begin to spawn in late January and will be moving into areas in and around bulrush (buggy whips) on the northern shoreline and the submerged vegetation in the channels south of Big Island and Bumblebee Island. Flipping these areas with soft plastics, weightless speed worms, and swimbaits will be the best bet during the spawning season. Fishing for bass between the cold fronts can be very productive.
Use caution when the wind blows on this shallow lake, it can get rough in a hurry! Tight lines!
More details about Lake Istopoga:
Highlands County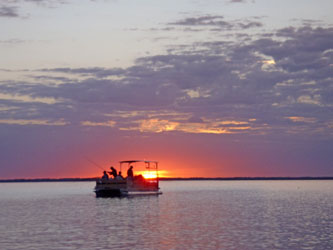 Located five miles northeast of Lake Placid, Highlands County, this 27,692-acre lake has quality fishing for black crappie (specks) and one of the highest largemouth bass catch rates in the state. The best speck fishing occurs during winter months drifting over open water, particularly in the northeast and southwest corners. Predominant aquatic vegetation includes spatterdock (bonnets), bulrush (buggy whips), cattail, and pondweed (peppergrass). Kissimmee grass on the south end is particularly productive when there is flow into the Istokpoga Canal. This canal, located off County Highway 621, provides excellent largemouth bass fishing from the bank when the gates are open. Arbuckle and Josephine Creek mouths are also good areas when there is flow. The island areas and associated grass can hold bass any time of year and the deepest portion of the lake (10 ft) is in the southwest corner. Public boat ramps are located on the north, northeast, and southwest shorelines off of U.S. Route 98, Lake Boulevard off Cow House Road, and Highland Lake Drive off of County Route 621, respectively. There are also six fish camps/resorts on the lake with various accommodations. Anglers can wade fish off of the Cow House Road boat ramp.
For more information contact Henderson's Fish Camp at 863-465-2101, or Cypress Isle RV Park & Marina at 863-465-5241.
Popular Species

Fish graphics by Duane Raver, Jr.
More species information is available for:
Largemouth bass, Bluegill, Redear sunfish, Black crappie

TrophyCatch Tracker
TrophyCatch is FWC's citizen-science program that rewards anglers for documenting and releasing trophy bass 8 pounds or larger. The following TrophyCatch bass have been submitted from Lake Istokpoga:
Lunker Club (8 – 9.9 pounds): 441
Trophy Club (10 – 12.9 pounds): 84
Hall of Fame (13+ pounds): 2